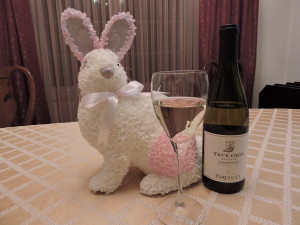 Parducci was one of my favorite wineries that we visited on a recent trip through Mendocino and Sonoma Counties. On the day we stopped by, we were the only ones in the winery and we got extra special attention. Every wine we tasted there was delightful, so much so that we joined their wine club.
The nose on this wine is clean with mild scents of pear. It has a polished, yet rich style and the texture is somewhat creamy. I tasted slight summer fruit flavors. The finish is round and smooth, not incisive. The wine was aged in 100% new French oak, but the oak is not overly pronounced in this vintage.
Upon drinking the remainder of this bottle the next day, I discovered the wine had even more complexity and flavor. Enjoy it with a roasted chicken if serving with food, or just enjoy it alone!