Matchbook Wine Company is quickly becoming one of my favorite wineries, producing as many as five different chardonnays. The winery produces four different brands of wine: Matchbook, Mossback, Chasing Venus, and Sawbuck.
Located in Dunnigan Hills, about thirty minutes north of Sacramento, Matchbook has a beautiful facility overlooking their vineyards on rolling green hills. To compare and contrast, today I am tasting three of their most popular chardonnays.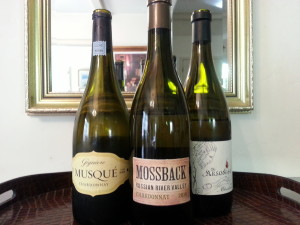 Mossback 2014 Russian River Valley Chardonnay
Mossback is an old fashioned term for farmers, and the owners, being grape growers as well as winemakers, can identify with the profession.
Apple and citrus aromas with a hint of vanilla waft up from the glass of this wine produced from grapes out of the Russian River Valley. It has a rich and creamy texture, and is soft and round on the palate. There is some acidity in the finish. Although this wine is softer and milder, lacking the butterscotch flavor that I typically find in a Russian River Valley chardonnay, it is lovely and quite drinkable. The alcohol is 13.9%. It sells for $17.99 a bottle in the winery.
Matchbook 2013 Giguire Musque Dunnigan Hills Chardonnay
Musque is the French term meaning both perfumed and muscat-like. What a beautiful nose, truly perfumed, enhancing the tasting experience with such wonderful smells. The wine itself is layered with honeysuckle, orange blossom and pear overtones. The body is thinner than the Mossback. It is round, soft, and has a lingering finish with a hint of apricot at the end. The alcohol is 13.5%. This wine sells for $15.99 a bottle at the winery.
Arsonist 2013 Dunnigan Hills Chardonnay
The winemaker describes this as a big, rich, creamy, full flavored chardonnay and I have to agree. This is my favorite wine at Matchbook and very closely matches what I have been looking for in that "good, old-fashioned" style of chardonnay.
I smell toasted oak and hints of vanilla in the nose. This has a rich, creamy mouthfeel. This is what chardonnay should taste like. The flavor of the grape comes through in this wine and is not overpowered by the French, American, and Hungarian oak barrels in which it was aged. There is a taste of sweet caramel in the finish. The wine is 14.3% in alcohol. It sells for $21.99 a bottle at the winery, but is also widely available commercially. Look for it on sale at your local grocery store.