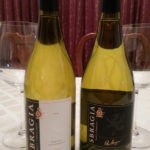 Sbragia Winery, north of Healdsburg, is one of our favorite wineries. Views of Lake Sonoma make this an ideal spot for sitting on the patio enjoying a glass of wine and a charcuterie board. When we received our recent wine club shipment, there were two bottles of their luscious and flavorful chardonnay, so we decided to try them both and compare.
 Sbragia Home Ranch Chardonnay 2014
From Dry Creek Valley in Sonoma County, this barrel fermented chardonnay was aged 10 months in French oak. And the oak does come through in the bouquet with a hint of vanilla and crème brule.  This is a balanced and polished wine with a clean style. Bright fruit flavors of green apple and citrus, with toasted almonds give this wine a delightful flavor. It ends with a long, intense finish. 14.5% alcohol. Sells for $30.00 a bottle at the winery or $25.99 at Wine.com
 Sbragia Limited Release Chardonnay 2014
This wine club only vintage is made from Napa Valley grapes. Less oak in the nose than the Home Ranch Chardonnay, it displays some hints of stone fruit. The bouquet has sweet aromas of ripe apple and vanilla. Softer and rounder than the Home Ranch, the Limited Release is full of flavor with layers of pear, apple and a hint of hazelnut. A smooth finish indicates some balanced acidity. 15.1% alcohol.  
Although the Limited Release Chardonnay is not commercially available in stores or online, our experience at Sbragia has been that they are pretty willing to open up some of their special wines for customers when they ask. Tell them you read about this one and would love to try it  Then be prepared for a treat!