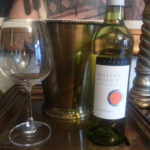 Malle Point Chardonnay 2014 – Casella Winery
One more Australian chardonnay from Total Wines, this one was only $6.99. I mentioned in my last blog that our daughter moved to Australia, so we are getting reacquainted with Australian chardonnay. Unfortunately, Total Wines did not have a lot to choose from on our last visit there, but what the heck, we're having fun drinking Australian wine and thinking of our daughter "down under."
This wine hails from South Eastern Australia, which we learned is a large wine growing area where wineries may grow or purchase grapes from several different vineyards to blend together and maintain consistency for their particular brand and varietal.
The bouquet in this wine has hints of coconut and oak. It's a medium bodied wine, medium yellow in color, with some peach and some melon notes with nuances of green apple. The wine is not particularly complex or flavorful but chilled and served as a party wine, it would be okay.
We'll be making a trip back to Australia soon and plan to visit both the Yarra Valley (one of the most beautiful wine regions I have seen) and Hunter Valley, both well known for chardonnay. In fact, I think Yarra may be similar to Sonoma County. They both specialize in chardonnay and pinot noir and their cool climates.
Stay tuned, Mate!