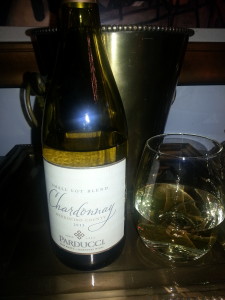 This is a small lot blend designed, according to the winemaker's notes, to be a blend of bold, lively flavors.
In style it is polished and refined, tastes clean, light bodied and light on the palate with a little bit of acidity. It is delicate and faintly flavored with hints of creamy vanilla and caramel but nothing distinctive. It is even light in color.
It drinks well but doesn't live up to its promise to be a bold and lively wine. This tasted well in the winery, so I'm not sure why this subsequent tasting doesn't measure up to my first experience. But, we are headed back to Parducci in March to pick up our wine club shipment. I'll give this chardonnay another try then and report back.
The wine is 13.5% in alcohol and retails for $9.90 at Safeway or $13.00 at the winery.