Last on our tour through Sonoma County and the search for exceptional wine tasting experiences was Keller Estate. Located in the southern part of Sonoma County off Lakeville Highway, this Petaluma Gap winery is open by appointment only (although a quick phone call ahead usually gets you in right away, 707.765.2117). When you arrive, expect to be seated, not ushered up to a crowded winetasting counter. The feel here is luxurious and the pace of wine tasting is leisurely. Knowledgeable wine servers share information about the winery and serve popcorn popped in the winery's estate produced olive oil, with a side of olive oil for dipping. While this might seem like an unusual pairing for wine tasting, the olive oil is quite delicious and the popcorn and olive oil flavors don't detract from the wines.
Our first visit to Keller was exactly this kind of experience. 90 minutes tasting four wines in the tasting room, overlooking the vineyards and learning about the chardonnays, pinots and the Rotie being poured that day. But our return visit was so amazingly over the top and indulgent that I would happily repeat the experience. Called their Serenity and Wine Brunch, this is a three course, gourmet feast paired with estate wines. For $65 per person or $50 for club members, this is an excellent way to sample the Keller wines.
Brunch is served on the Vineyard Terrace with sweeping views of the vineyards, olive groves and Mt. Tamalpais. Seating is family style at a long, elegantly set table. Be prepared to get to know your table mates as the wine is poured. And, servings are generous! We started with a crisp, dry rose, worked our way through three different chardonnays, sampled a couple of pinot noirs, the Rotie and ended with a sparkling wine.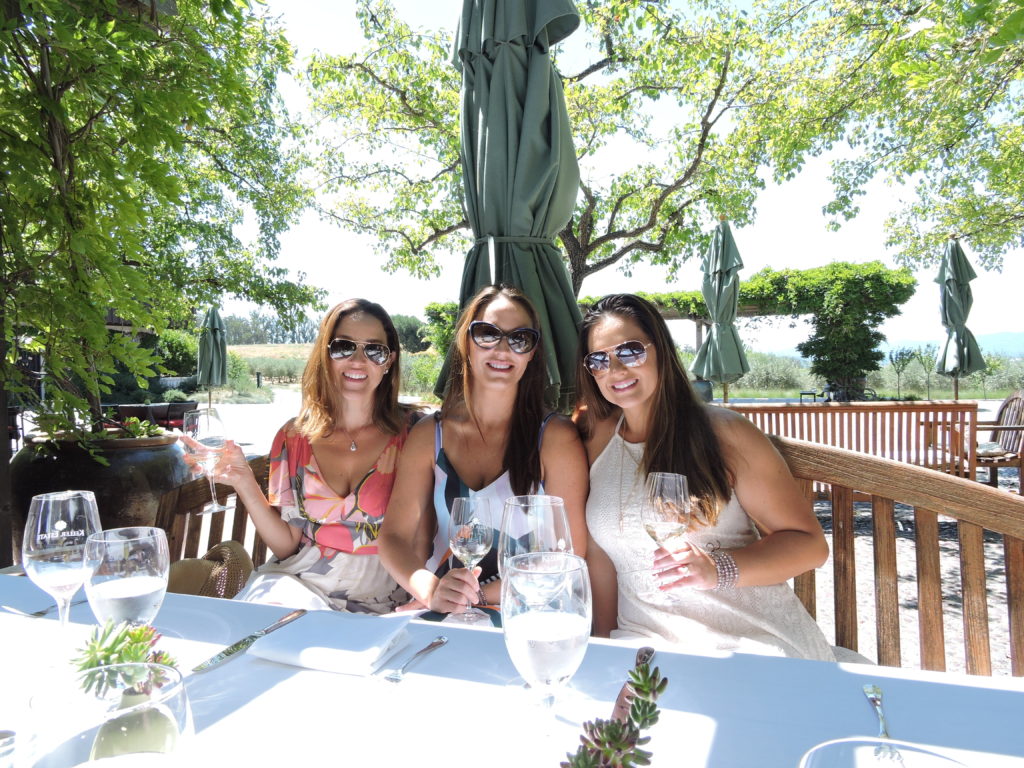 We even received a special treat at the end. With temperatures hovering around 100 degrees that weekend, Brian, our host, had set up the wine cave earlier in case we needed to sit inside. While we did enjoy most of our meal on the vineyard terrace, Brian kindly invited us back to the cave to cap off the afternoon with dessert and sparkling wine. We parted ways with our new found friends, purchased some favorite wines, then set off on the road wondering how we were ever going to just be able to walk into an ordinary wine tasting room again and belly up to that crowded bar!
So there, dear readers, is the last of our Sonoma County exceptional wine tasting experiences. It was fun. It was indulgent. It gave us unique and up close opportunities to learn more about Sonoma County wines and sharpen our wine tasting skills. Impress your friends or impress your date. Guaranteed that any one of these five experiences will do the trick!