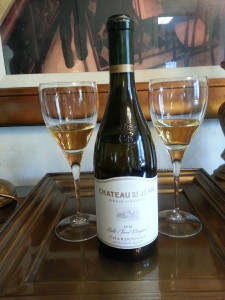 I was very excited to stop by this winery during our trip through Mendocino and Sonoma Counties last fall. It was on my list of recommended wineries from a blog I read before we headed out to wine country. The winery itself was plenty busy on a Friday afternoon and the staff was very friendly.
At first, I couldn't detect much in the nose, but the second pour revealed a slight scent of freshly sliced fruit. This is a rich and creamy, well-structured wine with a very pleasant mouthfeel. It is layered with ripe fruit characteristics and a hint of vanilla. Enjoy the ripe, full roundness on the palate.
The color is light golden in appearance, and the wine has plenty of legs. Alcohol is 14.4% in volume. The wine sells for $30 at the winery which is where I purchased it.  Or, check Vivino.com for prices from $22.99 to $26.99.