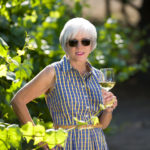 Dedicated to finding that perfect chardonnay, I've been tasting and blogging about my favorite varietal for almost two years. It's hard to believe that much time has passed, so thanks for following my experiments and adventures.
People often ask me if I've found the perfect chardonnay yet and I must say, "No." Because when I find the perfect chardonnay, the hunt is over and I won't need to write this blog anymore. But, I will share with you my favorite chardonnays, just in case you haven't figured a few out by reading my blog. Not in any particular order, here are my favs:
Together, we've covered chardonnays from other parts of the world as well as my own backyard. I've had the good fortune to visit wineries in Sonoma, Paso Robles, Mendocino, Amador, the Delta, South America, Italy, Australia, New Zealand, and most recently, France. Winetasting along the way is one of the most wonderful aspects of travel.
It's been a blast and everywhere I find wonderful, delicious chardonnay. In fact, chardonnay carries the distinction as the world's most famous white wine and most widely planted grape. So, it's fitting that there is an International Chardonnay Day, today, May 25, 2017.
On this most special (to me) of days, we are headed to the land of Oz, where the nickname, "Chardy Girl" was penned and stuck. (You can read the original story here.) The lucky Aussies, they have a whole month to celebrate wine, from May 1 – 31. Our plane arrives just in time to help them celebrate by tasting some of those delicious Yarra Valley chardonnays.
And you know what that means! The next few blogs will be featuring Australian chardonnays. So enjoy! Happy International Chardonnay Day! Cheers!