The Napa Valley is renowned throughout the world for its premier wines, and the Santa Barbara wine tasting region was made famous by the movie "Sideways". Sonoma County is known for its quaint towns, luscious wines, and scenic vineyards. The Lodi and Amador wine regions are well known in Northern California for their robust reds and the Paso Robles wine region now boasts nearly 300 wineries in its appellation. But hidden in the backyard of California's state capitol, the undiscovered wine tasting region of the Sacramento River Delta beckons to residents as well as visitors looking for a convenient, yet local getaway.
Take a leisurely drive along the meandering Sacramento River on a warm summer day and experience unhurried, uncrowded wine tasting at family run, local wineries. Enter the Delta and be instantly transported to a world of pear farms, and grape vines, and small towns full of California history still occupied by real people living a small town life.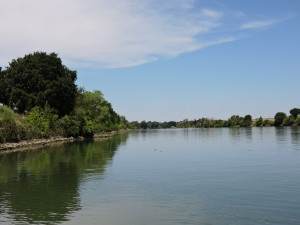 I just love the Delta. I fell in love with it the very first time I drove down the river road, past Rio Vista, where suddenly, the Sacramento River widens and changes, flowing toward the Antioch Bridge, eventually making its way to the San Francisco Bay.   Discovering wine tasting in this region that I love just makes it even better.
Enter the region through the tiny town of Freeport, gateway to the Delta. Cross the historic Freeport Bridge, once used to film the movie "The Prize" to the west side of the river. Continue south about 2 miles to the Old Sugar Mill, a repurposed sugar mill that now houses wine tasting rooms for eleven area wineries. It would be easy to spend all day here, but see more of the region and move on to Bogle Winery, just a few miles further south, past Clarksburg on the South River Road.
Bogle is the perfect place to enjoy a picnic on the spacious grounds, surrounded by vineyards. The grassy area is dotted with picnic tables and chairs, or take advantage of the balcony seating upstairs outside of the tasting room, while enjoying a bottle of wine. My favorite wines are the Reserve Chardonnay, the Viognier, only produced about every other year, and the Phantom Red, a blend of petite sirah, zinfandel, cabernet sauvignon, and mourve`dre.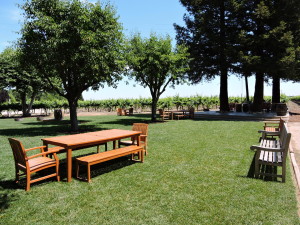 Back on the river road towards Clarksburg, cross over the Freeport Bridge and head south on the River Road (Highway 160) to Scribner Bend Vineyards, owned by Mark and Lorraine Scribner. The winery offers a small, but lovely picnic area surrounded by rose bushes, and a giant outdoor tent used for weddings and winery events.   Staff are friendly and knowledgeable and always happy to pour a second taste of something you tried but aren't quite sure about.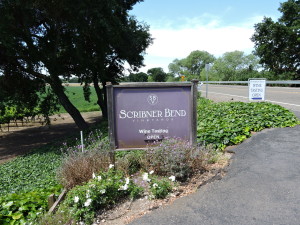 I love the Reserve Chardonnay, one of the newer additions to their wine selection. This wine only comes in a 375 ml bottle and is reminiscent of that old fashioned, oaky, buttery chardonnay.
There are now twenty wineries in the Delta wine region. Not all have tasting rooms yet, but look for that to change in this wine growing region as more and more Northern Californians begin to discover what has quickly become my favorite place to wine taste.
Places to Eat:
Looking for a fun place to eat before hitting the wineries, or in-between? Try Husick's in Clarksburg. This restaurant, opened in October 2014, by Katherine Van Diest, boasts barbeque ribs, tri tip, and other meats.  The atmosphere is funky and the restaurant serves 14 different beers on tap plus wine tasting from four local wineries.
Alternatively, the Dinky Diner is across the street on the river side and serves what I would describe as an old-fashioned hamburger grilled right there in their old fashioned road side trailer.  Sit outside  at picnic tables and enjoy the river view while you eat your lunch.
Delta Tours:
Wine tasting tours are available through Delta Heartbeat Tours, Thursday through Sunday at a cost of $60 per person. The company uses comfortable mini-buses to visit some of the Delta's best wineries and also offers tours to 9 Delta towns as well as custom tours. www.deltaheartbeattours.com  or (916) 776-4010.