Sonoma County, along with Napa and several other areas in California, suffered devastating wildfires last fall. Tragically, lives, jobs, homes and businesses were lost. The fires also took a toll on tourism, the lifeblood for wine regions, as many out of towners still think that Napa and Sonoma burnt down. But they didn't and are advertising heavily for customers to come back. So, we decided to head to Sonoma County and do our small part for the economy. And, of course, enjoy some fabulous wines.
Renowned for its chardonnay, and just a one-hour drive from my home, Sonoma County is one of my favorite wine regions. Rolling green hills planted with miles and miles of grapevines, pedestrian friendly small towns, and more than 400 wineries, located in six wine growing regions, make this part of Northern California a big draw for wine lovers.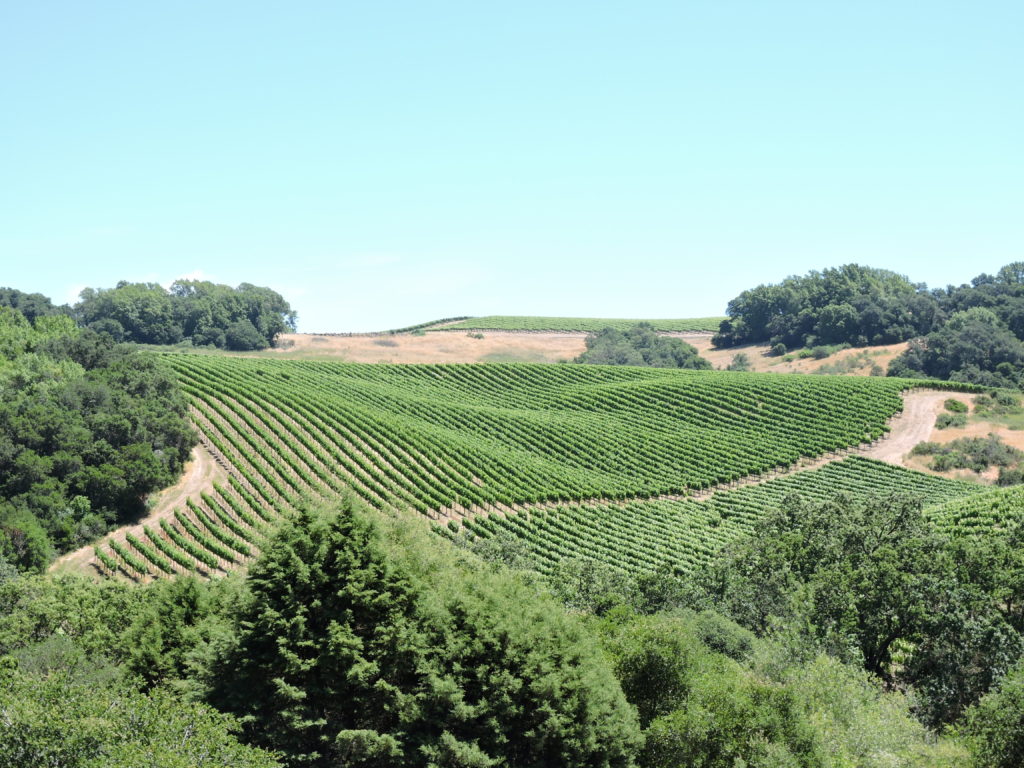 With 18 different AVAs spread over 1,768 square miles, it would take even the most dedicated wine lover to properly sample this region's chardonnays. Fortunately, the small town of Sonoma – not to be confused with the County of Sonoma – provides 25 wine tasting rooms all within walking distance in the center of town. Spread around Sonoma Plaza, an 8-acre historic, Mexican-era style plaza, the biggest dilemma was where to start.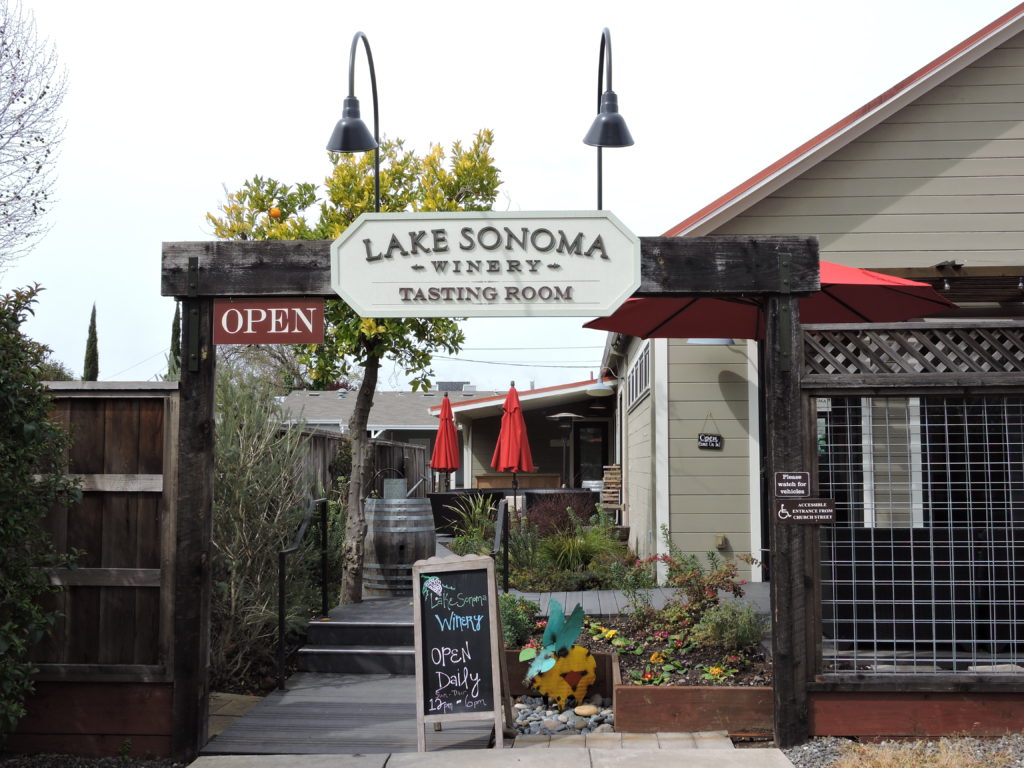 After parking the car at our hotel, my husband and favorite wine tasting partner, Gary, and I walked a few short blocks to the Lake Sonoma tasting room at 134 Church Street. The winery converted one of the town's older houses into its tasting room and this recently refurbished tasting room feels like visiting the home of a friend. As Kelly, the tasting room manager, explained, "the life of the party is always in the kitchen. The winery turned the kitchen counter of this former home into the tasting room's serving bar. Surround by barstools, this feels like a comfortable spot to sit, sip, and savor the wines. What a refreshing change from the usual, crowded "belly up to the bar" seen at so many other wineries.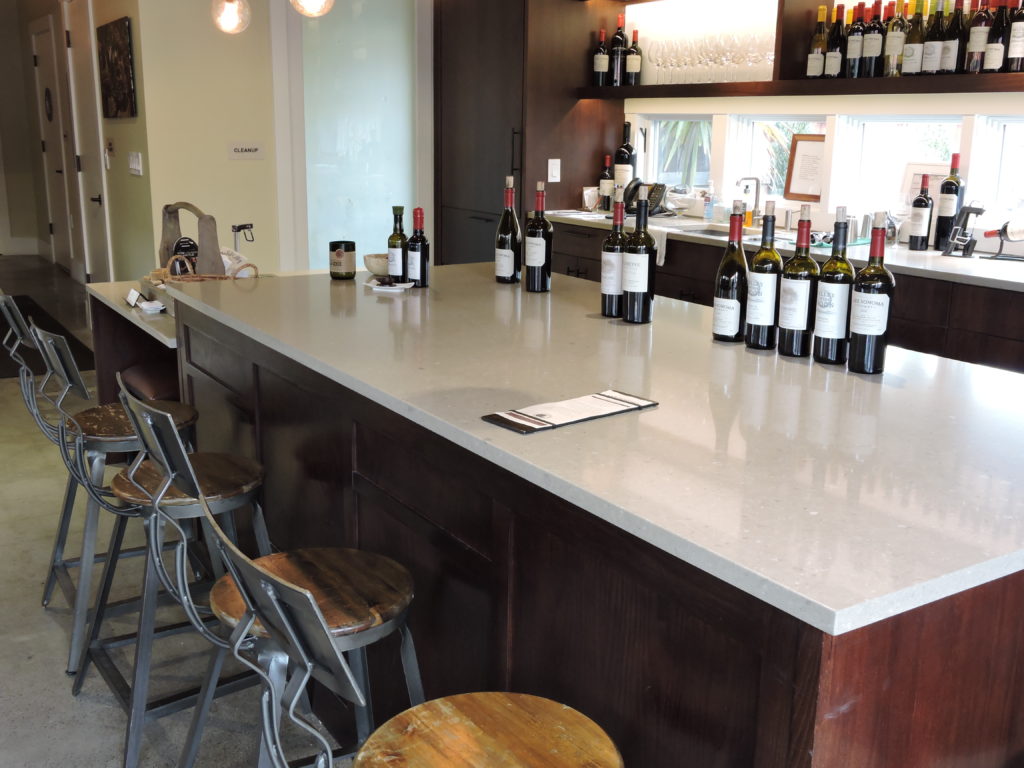 The adjacent lounge, fashioned out of the former living room, is designed for customers who want to relax and enjoy a glass or bottle of wine. A comfortable couch with pillows and a blanket, as well as leather chairs are nicely arranged for this purpose. And the former dining room, complete with a dining table and comfortable chairs, serves as a place for wine club events and special wine and food pairings.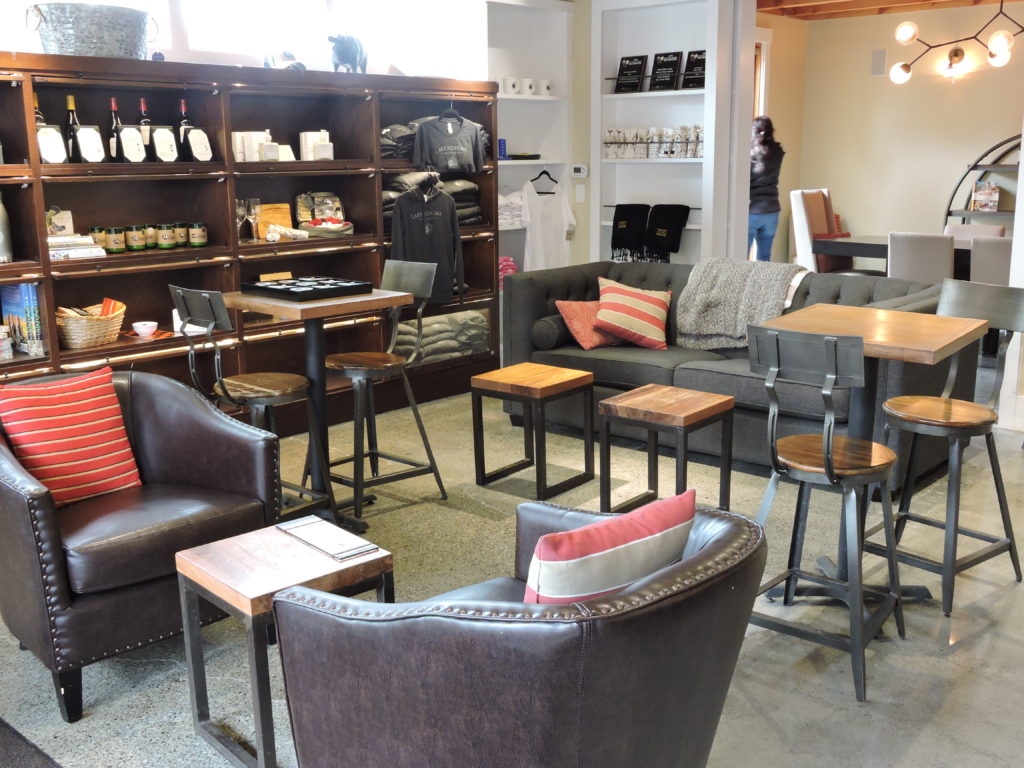 But we went there for the wines, so we settled onto bar stools to sample chardonnays from this well-known winery. They make five chardonnays, four from the Russian River Valley. Sonoma County is home to some of the most diverse terroirs and micro-climates in the world and the Russian River Valley, I think, produces some of the most outstanding chardonnays. We tasted the 2014 Lake Sonoma Winery, Russian River Valley and the 2016 Madrone Estate Winery (their sister winery in Glen Ellen), Sonoma Valley Chardonnay.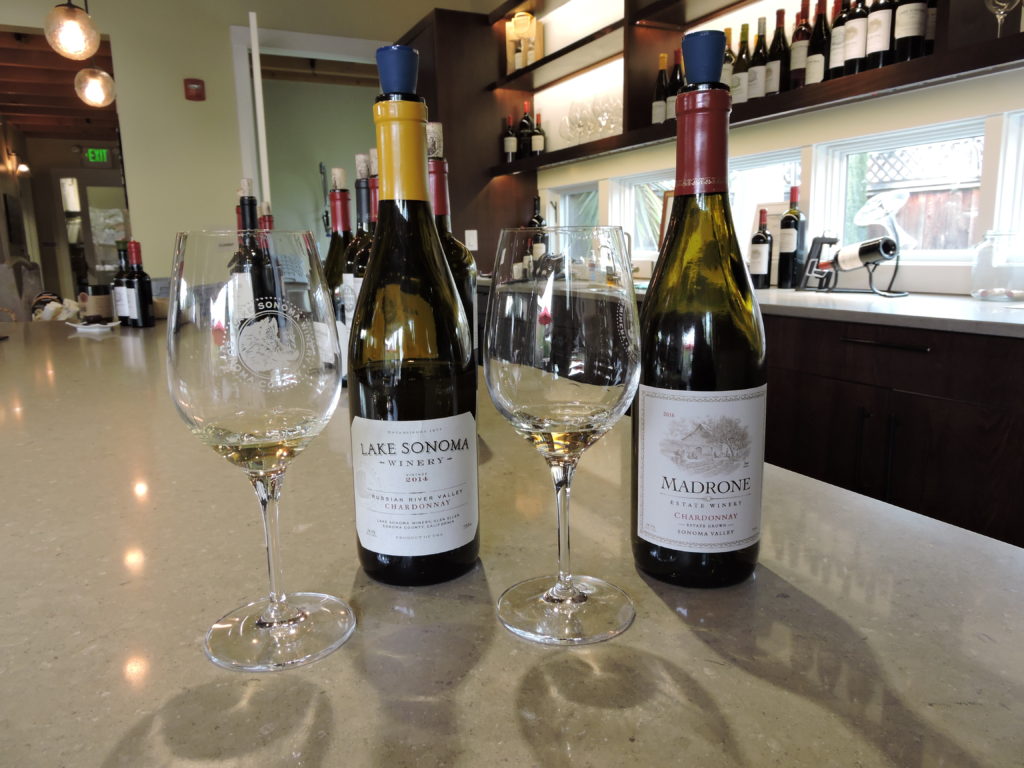 The 2014 chardonnay is an excellent example of fruit from the Russian River Valley. Hints of light oak and orange blossoms in the nose, followed by layers of vanilla and lemon cream in the palate combine for a delightful wine from start to finish. Partial fermentation in stainless steel produces a medium bodied wine with crisp acidity. Light-straw in color, 14.4% in alcohol, sells for $30.00 at the winery.
The newly released 2016 Madrone Estate Chardonnay from Sonoma Valley was my favorite of the two. The winery's first estate grown wine from their Sonoma Valley estate produced a soft and creamy chardonnay. Aromas of vanilla and toffee come through, followed by flavors of crème brulee and a hint of butterscotch in the palate. With the perfect amount of acidity, this wine is delicious on its own, but would pair well with creamy foods. Light-straw colored, 14.1% in alcohol, retails for $40.00 at the winery.
We dined, shopped, talked to locals and tasted at four wineries in a few short days and I have so many more recommendations for you. But, I'll stop here today and follow with more about the other wineries we visited, and even a few restaurants, in a short series of blogs on Sonoma, California.
Be sure to sign up for my distribution list and I'll let you know when the next in the series is out! Until then, I'll keep on the hunt for the "perfect" chardonnay.