Through all of my "research" here in Australia, I've learned that winemakers in this country, like elsewhere, have shifted from making the "old" style of round, buttery, full-bodied chardonnay, opting for a leaner, unoaked style that tends to let the flavor of the chardonnay grape come through. In fact, I've tasted a few of those over the past several weeks and they aren't too bad.
There are, fortunately, still plenty of winemakers out there, particularly in the Margaret River, Orange and Yarra wine regions that are still making my style of chardonnay. Thanks to a knowledgeable wine server at a Dan Murphy's in Melbourne, a sales rep for Wine Selectors based out of the Sydney Airport Domestic Terminal, and numerous wine makers and experts at the recent Sydney Good Food and Wine Show, I've started finding those round and luscious chardonnays that still exist in Australia! It really does help to hunt around and ask other people…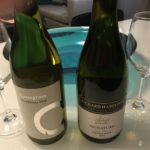 The two wines I'm reviewing were purchased from Wine Selectors, a company that represents boutique wineries from all over Australia. Without signing up for a wine club, or committing to any recurring orders, you can just become a member and order wines by the six pack or by the case, at a reasonable price. We ordered a six pack of chardonnays "for lovers of the rich style" to sample a few. Today I'm reviewing the Cassegrain Chardonnay 2016 and the Richard Hamilton Adelaide Hills Signature Single Vineyard 2015.
The Cassegrain Chardonnay comes from the cool climate of the Central Ranges of New South Wales. There are notes of tropical fruit with hints of hazelnut and creme Brule. Pale yellow in color, clean and bright, this medium bodied wine ends with a soft, round finish. It has layers of stone fruit and hints of pineapple. I find the Cassegrain Chardonnay to be delicious and imminently drinkable.
The winery sells this wine for $23.95 a bottle, but we paid closer to $15 through Wine Selectors. Enjoy with chicken, fish or seafood, or simply by itself.
The Richard Hamilton Adelaide Hills Signature Single Vineyard Chardonnay 2015, of course, hails from the Adelaide Hills. The oak in the nose is a little too strong for my taste so let it breathe for a few minutes before sipping. Another light golden yellow, but clean and bright wine, it is elegant, stylish and full bodied. Fruit flavors come through in the taste.
The winery sells this for $30.00 a bottle, but again, through Wine Selectors, the cost was approximately $15.00. Enjoy with poultry, seafood or pasta.