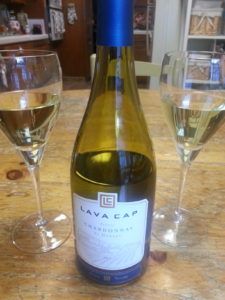 An old favorite of mine from years ago, I haven't tasted this wine in a long time. Generously gifted to me by a dear friend, I truly enjoyed getting reacquainted with Lava Cap.
Enjoy notes of pear and apple aromas in the nose followed by delicious tastes of vanilla and butterscotch. It's 15% alcohol, which is big for a chardonnay, giving it a slightly incisive and warm finish that lingers on your palate. This wine is full of flavor, with a big mouthfeel. Chew on this one to really taste all of the deliciousness in this wine.
The wine was aged in 100% French oak barrels, leaving it with a touch of oak in the finish.
We paired this wine with Beecher's No Woman cheese, infused with Jamaican Jerk Spices and the wine was bold and flavorful enough not to be overpowered by the cheese.