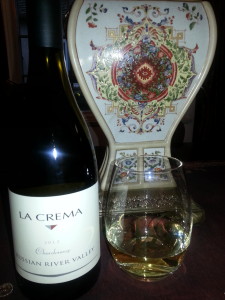 This wine has a clean, fresh scent of pear in the nose, with hints of stone fruit. I taste the butterscotch right away but it's layered with oak and hints of hazelnut for a complex, lingering finish. Hidden in the finish is a touch of tanginess due to its acidity. Butterscotch is the major theme here.
This wine doesn't meet the criteria for the quintessential creamy, buttery chardonnay that I am always seeking. But it is representative of the Russian River Valley that produces a unique chardonnay with the butterscotch characteristic. From Mendocino to Sonoma (Russian River straddles both) we found this flavor over and over again in chardonnays.
We picked this wine up from the La Crema wine tasting room in Healdsburg during our recent trip through Sonoma and Mendocino Counties. A quick search online shows that the 2013 is out of stock, but it is still available on the La Crema website. $30 per bottle or $24 for wine club members.
The La Crema chardonnay pairs nicely with pan fried filet of sole, a mushroom risotto, or a platter of mild cheddar and marcona almonds.