Hello and Happy New Year! It's been awhile since I posted a review, and for all my chardonnay loving friends, I apologize.
Things have been crazy in our world. We took a much-anticipated trip to Hawaii. We met our daughter, who lives in Australia, and spent Christmas in Maui. What a heavenly place to spend the holiday!
Plus, Gary, my favorite wine tasting partner, and I have been busy these past few months with more travel writing assignments. With several articles recently published and several more in the works, I've been distracted!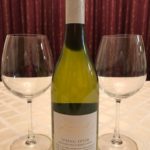 But that's no excuse for not doing my job, so today I am continuing with Australian chardonnays. I just love Australian wine. They are almost always bottled with screw caps which means you can get to the golden nectar that much faster!
Today, I am trying a chardonnay from Australia's famous Barossa wine region. I usually think of this wine region for shiraz, but this bottle from Langmeil, caught my eye at our local grocery store.
The color is pale yellow, almost as light as champagne. When I first opened the bottle, the nose had a distinct aroma of oak, but that quickly dissipated, replaced by hints of honeysuckle and daphne.
Subtle melon and nectarine flavors, in combination with the soft, sweet perfume in the nose, made for a unique, but attractive chardonnay. I can't say I've tasted one quite like it before, but I will definitely pick up another bottle again. This is an easy drinking chardonnay on its own, but it paired very nicely, too, with petite breakfast brie and fig jam.
This is a clean, well made, polished chardonnay, yet the body is mellow with a creamy finish. At 2014, it aged well, and at under $15, is very attractive.
I found it at our local Nugget Market, which carries a wide variety of imported as well as local wines, but you can buy it online at Marquis Wines or check Wine Searcher.
I don't believe the winery sells the 2014 anymore, but it's worth an inquiry directly with the winery, if you're in Australia. Langmeilwinery.com.au
Cheers and here's to many more months of happy wine tasting in 2018!