This is a lovely chardonnay that was recommended to me by one of the wine servers at Matchbook. She overheard me talking about the style of chardonnay that I like (and Matchbook's Arsonist Chardonnay is one of my favorites) and recommended this one from San Luis Obispo, California.
Upon raising the glass to my nose, I detected some toasty oak. Okay, so good, so far. But, there is also a faint buttery aroma, as well. My tasting partner says he could pick up buttery biscuits in the nose.
This is a classic California chardonnay, soft and round and smooth with luscious stone and tropical fruit flavors integrated in the flavor. The mouthfeel is also soft and round, with an easy finish. The wine is polished and refined, yet flavorful. The color is pale and golden. Alcohol is 13.9%.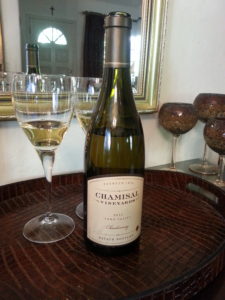 Unfortunately, the 2012 is no longer available on the winery's website. We picked up this bottle at Total Wine and I suspect that their chardonnays are pretty consistent so I will be on the hunt for another bottle soon…