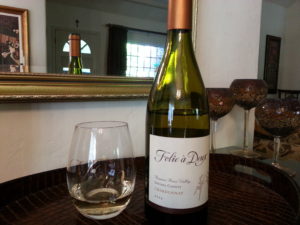 I wasn't even going to review this wine.  I went down to my basement tonight and grabbed a bottle of what I thought was just an everyday drinking wine, but what a surprise!
The nose is full of sweet scents of pear and vanilla with hints of oak.  This is a medium bodied wine with pineapple and tropical notes, layered with honey and butter.  The texture is soft and round.  I like that the nose is so full of aroma, it compliments the taste of the wine and adds another dimension to the whole tasting experience.
This was another Safeway wine on sale at just $13.49.  It hails from the Russian River Valley, one of my favorite wine producing regions.  13.9% in alcohol.
This is going to become a regular in my wine rack!