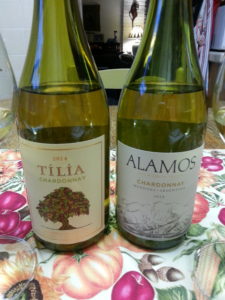 Our recent visit to the Mendoza wine region in Argentina left me wanting for more of the delicious wine from this sun-kissed part of the world. Fortunately for me, just about the time we arrived home, Wine.com decided to hold a sale on several Argentinian and Chilean wines (Yes, we stopped on the other side of the Andes, too, to sample the wines of Valle del Maipo).
I ordered a variety of chardonnays to be delivered. Today we are tasting the 2014 Alamos Chardonnay and the Tilia Chardonnay from Mendoza.
Alamos Chardonnay Mendoza 2014
This wine has a brilliant, light yellow color. Enjoy hints of vanilla in the nose, followed by tastes of stone fruit and ripe apple, layered with vanilla. It is well-balanced and full-flavored, very much to my liking. It also has a lovely finish that lingers on my palate. The wine sold for $9.99 on Wine.com.
Cultivated by the Catena family for over 100 years, Alamos vineyards lie in the foothills of the Andes Mountains.
This wine pairs nicely with roasted chicken or pasta dishes with a cream sauce. We also sampled it with a soft brie cheese and found the pairing to be delightful.
Tilia Chardonnay Mendoza 2014
This wine has slight hints of toasted oak and vanilla in the nose. The wine itself, however displays a ripe citrus flavor. The color is also a brilliant, light yellow like the Alamos. The Tilia is well-balanced, lighter bodied than the Alamos, with a clean, refreshing finish. We purchased it for $10.99 from Wine.com.
Tilia is sourced from sustainably farmed vineyards in the Eastern and Southern regions of Mendoza. Pair with a mild white cheese or grilled chicken or grilled vegetables.
Of the two wines, I found the Alamos to be more to my liking. I lean towards the fuller-flavored, fuller-bodied chardonnays.  And for the price, I could see myself stocking up on some more Alamos Chardonnay.