Somewhere in the McLaren Vale wine region, South Australia, lives a winemaker after my own heart. Determined to reintroduce a style of chardonnay that has gone out of favor in Australia, Fred Howard of Dog Ridge Winery began making an old-fashioned, creamy, buttery chardonnay called "Butterfingers."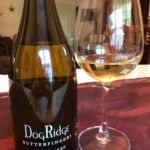 In fact, enamored with Fred's new/old style of chardonnay, Harry Fisher from The Times on the Coast, in Victor Harbor, Australia, wrote a story about "Chardonnay Recovered from Fumble." A copy of that article proudly graces the back label of every bottle of Butterfingers. Fisher writes, "A local winemaker is winding back the clock and looking to bring bold and full-bodied chardonnays back in to popularity with a new generation of wine drinkers."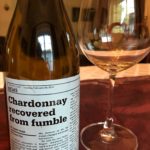 Introduced to this charming, energetic winemaker at the Sydney Good Food and Wine Show, we got a chance to stop by Fred's booth, taste his wines, and learn more about his passion for making what I call the "old-fashioned" style of chardonnay. You know – the kind I'm always hunting for…
So, of course, I brought a bottle of this golden sunshine home with me from Australia. Aged in brand new French oak barrels, this chardonnay is lightly oaked. It's golden in color, clean, clear and well, just plain pretty! Aromas of crème brulee and pear with a faint, sweet floral note fill the glass. It is a full structured, big, round, creamy and luscious wine, with flavors of stone fruit. The wine is 13.5% in alcohol.
We paid $20.00 AUD ($15.79 USD) for this chardonnay at the food and wine show, most likely a promotional price. But, it can be purchased for $27.99 AUD at BlackSheepBottleShop.com.au or $25.00 AUD on the Dog Ridge website.
McLaren Vale, south of Adelaide is one wine region we didn't make it to when we visited Adelaide three years ago. With only time for one wine tour, we chose the famous Barossa Valley. But now that I've tasted several wines from the McLaren Vale, I'm definitely anxious to visit when we return to Australia. The list is growing longer with the Margaret River wine region calling my name and the Hunter Valley still on my bucket list. Mornington Peninsula, just outside of Melbourne and an easy side trip from Sydney, also came highly recommended. Until then, I'll be saving my pennies for a return trip to this lovely wine producing country. Australia, keep making those lovely chardonnays. I'm coming back!