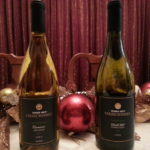 As 2016 comes to a close, we are wrapping up a fun and delicious year of wine tasting with two California chardonnays.
For this tasting, we chose two different chardonnays from Trader Joe's. Both chardonnays are the Trader Joe's brand, and both $12.99 a bottle, but one is from the famed Carneros wine region in Napa Valley, and the other is from Chalk Hill in Sonoma County. Here's what we found:
Trader Joe's Grand Reserve – Chalk Hill, Sonoma County 2015 Lot #28
The nose on this wine has slight toasty oak and vanilla notes. It is light in color and has a polished and balanced acidity. I am tasting layers of citrus zest and pear, with a butterscotch flavor in the finish. The wine is 15.1% in alcohol.
Trader Joe's Grand Reserve – Carneros, Napa Valley 2014 Lot #51
This wine is also light in color, but the nose opens with a subtle fragrance of honeysuckle. Although the bouquet is subtle, the flavors of the wine, coconut, pear, and vanilla come through nicely. It has a soft, smooth finish and is 14.5% in alcohol.
The Napa wine is more flavorful and pronounced while the Chalk Hill wine is softer, more subtle all the way around. I'm normally a lover of Chalk Hill, but this time I think I prefer the Carneros wine. At just $12.99 a bottle, I'm definitely headed back to Trader Joes to round out my New Year's Eve wine selection.
Thank you for following us in 2016. We are looking forward to much more tasting, even heading to Australia to enjoy the delicious chardonnays from the Barossa wine region. So stay tuned. Come back and visit us often.
Wishing you the best in 2017! Happy New Year!