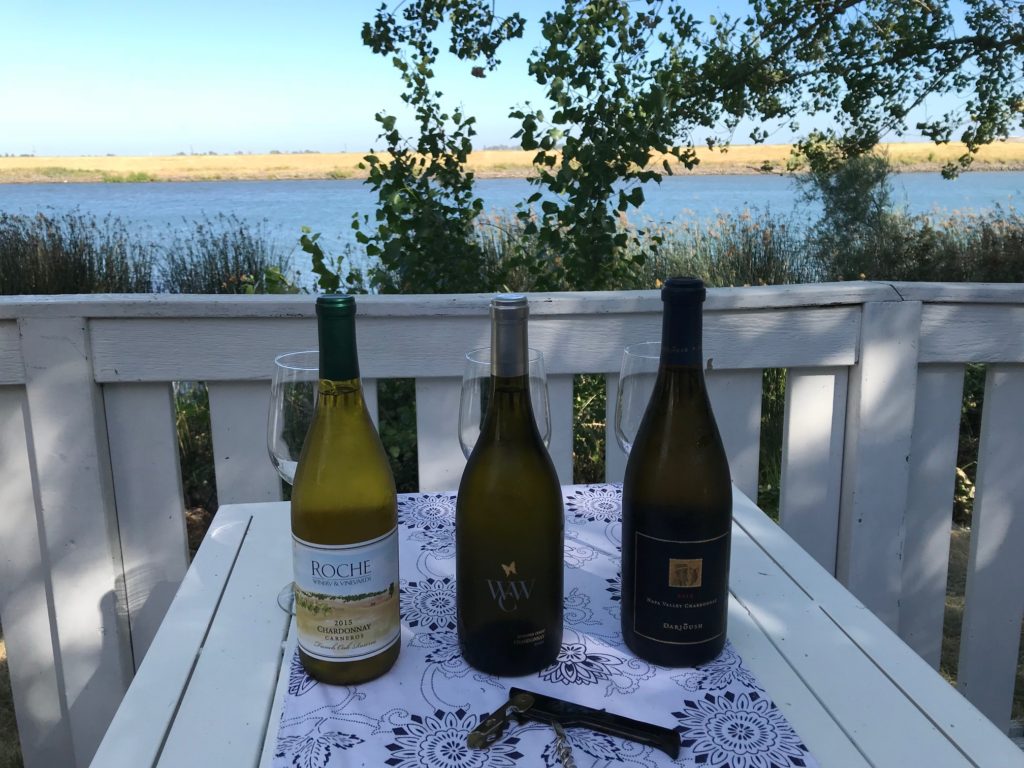 Wine tasting is more fun with others and I've always wanted to do one of my blogs with a group of friends. On a recent trip to the Sacramento Delta (a relatively unknown wine growing region in Northern California), we got the opportunity to do this "group blog" when my good friend Rebecca surprised us with three lovely bottles of chardonnay for wine tasting.
The first was from Roche Winery and Vineyards, a chardonnay out of Sonoma County's Carneros region. The second was a Darioush chardonnay from the renowned Napa Valley. And the third, from Wattle Creek Winery, was a Sonoma Coast chardonnay.
With glass in hand, sitting on the deck of a rented house overlooking Steamboat Slough, on a warm Sacramento Delta summer afternoon, Rebecca, Terry, Mike, and I held the first official Chardygirl tasteoff!
---
Roche Winery and Vineyards 2015 Chardonnay Carneros, French Oak Reserve
Roche has a tasting room in the small town of Sonoma (see my previous blog about staying in Sonoma and wine tasting around the plaza) or visit their new winery just south of town. The wine retails for around $38.00, has 14.5% in alcohol, and is highly rated in Sonoma Magazine. Here is what our group had to say about this delicious bottle:
Pam (the "Chardygirl") – Although the bouquet was light, the flavor was complex and well-balanced. I tasted a bit of butterscotch and caramel in the flavor and it ended with a lovely, long finish.
Rebecca- Detected butterscotch in the nose with a hint of lemon. The finish was on the drier side, but beautifully balanced. She would serve it with a delicate white fish, served with a lemon sauce.
Mike – Found it to be soft and delicate, with more sophisticated, nuanced flavors. For his taste, he thought it was slightly on the sweet, fruity side.
Terry – Detected a little citrus and fresh cut grass in the nose, melon in the flavor with a layer of honeydew.
---
Darioush 2015 Napa Valley Chardonnay
Although the 2015 chardonnay is no longer available, it originally sold for approximately $48. Their wines are pretty consistent from year to year and the 2016 is available now for the same price. This chardonnay is from their Signature Series. It was pale straw color and 14.8% in alcohol. Here are what the tasters had to say about this delightful chardonnay:
Rebecca – Liked it from the first sip through to the finish. She found it to be creamy with a good mouthfeel. She tasted hints of apple in the wine.
Mike – Also found it be creamy but with high acidity, giving it a bit of citrus in the finish. He tasted hints of grapefruit.
Pam – I smelled pear and vanilla in the nose, two of my favorite characteristics in a chardonnay. It was lighter in body, elegant, with bright acidity.
Terry – Also thought it had acidity in the finish, almost a bit tart, but overall called it a "pretty nice wine."
---
Wattle Creek Winery 2015 Chardonnay Sonoma Coast
Wattle Creek has a tasting room in San Francisco's Ghiradelli Square, introduced to us by the lovely Rebecca. They also have a winery in Sonoma County. This wine is light in color and 14.5% in alcohol. Although it's barrel fermented, it's not pronounced or overly oaked. Comments from the tasters:
Pam – I found it to be soft in the nose, with scents of crème brulee and vanilla bean. The wine was round, yet subtle.
Rebecca – She tasted layers of lemon and green apple and found it to be polished, with a lighter, subtler mouthfeel.
Mike – He thought it was a little effervescent, something the rest of us did not pick up on. He tasted lemon and found it to be less complex than the previous two wines.
Terry – He found this wine to be easy drinking, not overwhelming, subtler with a lighter mouthfeel. He thought it would go well with food as opposed to drinking it alone.
---
You know what they say about wine tasting? Everyone's palate is unique and it's easy for four different people to taste something different in the same wine. That sure held true for all three of these wines!
So stay tuned for more reviews. We're getting ready to do a side-by-side comparison of two Navarro chardonnays from Mendocino and review an Australian chardonnay with a rather unusual name.
Be sure to sign up for my distribution list or follow me on Twitter (@chardygirl) and I'll let you know when the next blog is out! Until then, I'll keep on the hunt for the "perfect" chardonnay.