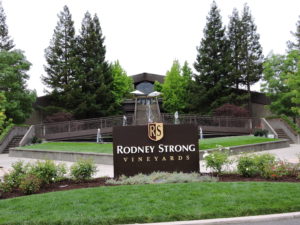 Rodney Strong is a striking and dramatic winery. Upon arrival you might quickly draw the conclusion that this is one of those wineries owned by a giant corporation charging $20 per tasting and drawing throngs of wine lovers to its tasting room. But it's not; in fact Rodney Strong is family owned and proud of it. The winery makes great wine but a visit there provides so much more. During the summer time, the winery sponsors concerts in its outdoor amphitheater and wine and food pairings on the terrace. It was the latter that brought us back to Rodney Strong for another exceptional wine tasting experience.
On this particular trip to Sonoma, we were seeking "exceptional" wine tasting experiences. We first got the idea when we visited Rodney Strong last fall. By exceptional, I mean we are seeking either a beautiful setting, or a leisurely seated wine tasting experience, or a gourmet food and wine pairing, or an otherwise unique and special wine tasting experience.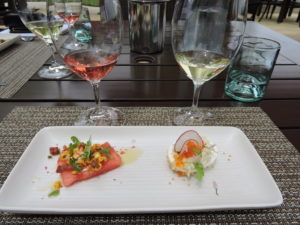 For $55.00 per person, the winery offers a leisurely paced food pairing of small, gourmet bites with five different wines. Seated at an umbrella shaded table overlooking the expansive picnic grounds and vineyards, we were offered an envelope with cards describing the menu of soon-to-come food delights and winemakers notes for each of the wines. The food was prepared by Chef Tara Wachtel and served by Greg, a long-time employee, former home winemaker, jazz pianist, and general expert of our favorite drink, wine.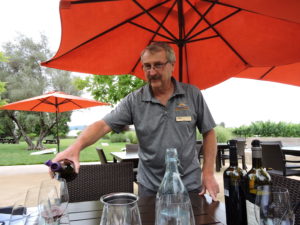 Rodney Strong did not disappoint. Nearly two hours, six courses, and five wines later (plus a few extra tastings), we were feeling thoroughly relaxed and very satisfied. We walked away with a greater knowledge and appreciation for the wines that are produced in Sonoma County and thoroughly impressed with the Rodney Strong staff that made us feel like special friends just visiting for lunch.
Call ahead and reserve a time for your own exceptional wine tasting experience. You'll find it hard to go back to the old process of standing in a crowded wine tasting room, elbowing your way to the wine counter.