In celebration of our daughter, Ashley, who moved to Sydney recently, we are tasting two Australian chardonnays today, both from the Hunter Valley.
Although we visited Australia a few years ago and had a delightful time tasting wines in two of the country's more well-known wine regions, the Barossa and Yarra Valleys, we did not make it to Hunter Valley.  Fortunately for us, we'll need to make a return trip, to visit our daughter, of course, and Hunter Valley is calling my name. Stay tuned for more on Australian wines!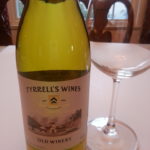 Tyrell's Old Winery Chardonnay 2014
Barrel fermented for 6 months, this medium bodied wine displays subtle oak in the nose, with some hints of stone fruit. The mouthfeel is smooth. The wine is clean and accessible with delicate flavors of white peach and citrus. The color is light golden yellow and alcohol is 13.0%
This Old Winery chardonnay is a decent wine and imminently drinkable, but a little light in flavor for my taste. Can be purchased at Total Wine for $12.59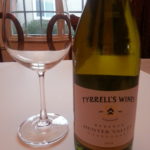 Tyrrell's Reserve Hunter Valley 2010
While a vintage of 2010 seems a little old for a white wine, this reserve chardonnay holds up well. The bouquet displays notes of honeysuckle and slight perfume. A richer, more fruit forward chardonnay than the Old Winery chardonnay described above, it is similar as it also has some flavors of peach and citrus. I'll be curious, when we make it to Hunter Valley, to see if those are characteristics distinct to that wine growing region.
This wine tastes clean and well made, medium bodied, complex, round, with a smooth finish. As it opens up, the Reserve grows more complex.
Medium yellow in color and 13.0% in alcohol. Retails for $21.59 at Total Wine.