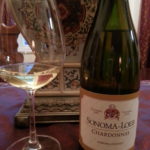 Makers of several different chardonnays, Sonoma-Loeb has been described as one of the premier white wine makers in Sonoma County and recommended to us by a wine server at Passagio. Although we didn't get a chance to stop by on our recent trip to the small town of Sonoma, Sonoma-Loeb also has a tasting room in the same "wine alley" as Passagio, just off the town's main square.
This limited production chardonnay, hand crafted in small lots, fits the profile of my kind of chardonnay. There are hints of mild oak and pear in the nose. The wine is soft, round and elegant with a lush, full flavored finish. The body is balanced, polished, clean and well made.
After tasting this wine, I  think it's worth a return trip to taste a few of Sonoma-Loeb's other chardonnays, especially their reserve chardonnays. But if you can't make it over to Sonoma anytime soon, you can pick up a bottle of this at Total Wine for $18.99. Not too bad for a quality bottle of Sonoma County chardonnay.