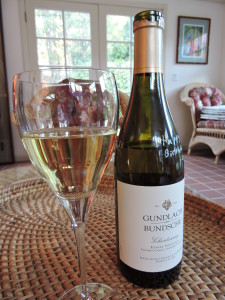 This is one more of the "goodbye wines" and it surprised me. I had heard good things about the wine and expected it to be somewhat complex with overtones of butterscotch and caramel (perhaps because of the winery's name). But it turned out to be lighter and more mellow than I anticipated.
The wine exhibits tones of citrus blossom, layered with minerality. The mouth feel is soft and round and the style is clean.
The vineyard is planted in gravel-rich, clay loam soils. The cool climate produces a mineral driven chardonnay. The wine is 14.3% in alcohol. The suggested retail price at the winery is $27.00 but the wine can be found online for around $20.
This was not a chardonnay that had the characteristics I'm typically looking for in a wine and to be honest, the minerality threw me off initially. I had to taste it several times to really distinguish the flavors. But, we are headed to Sonoma soon for wine tasting. The winery has a good reputation and if time permits, I'll make my way there and give their chardonnay another chance.