From the South of France, "this exuberant Chardonnay has a pronounced buttery-vanilla bouquet with deep, intense, rich fruit on the palate." Or, so says the description on the wine label. Sounds like the perfect chardonnay for me!
We are about to head to the South of France for a long-awaited wine cruise through the Rhone Valley. What's interesting about this cruise is it is sponsored by Petaluma Gap Association out of Sonoma County and they'll be bringing along several cases of Sonoma chardonnay. So, we'll get to taste Sonoma chardonnay alongside French chardonnay. What more could a girl ask for!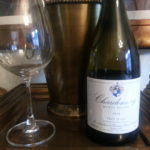 To wet our whistles and prepare for this glorious trip, we are tasting the 2014 Monte Vallon Chardonnay purchased at our local Nugget Supermarket.
This wine does indeed display a buttery, vanilla nose with slight toasty oak notes and a hint of caramel. I love the bouquet. It displays a bright golden color and the alcohol volume is 13.5%. The mouthfeel is textured and creamy. The flavors are pear and peach with a pineapple finish.  It is a full bodied, Languedoc styled white wine representative of the south of France.
Can't wait to taste more French chardonnays. I'll be blogging along the way, so stay tuned for more wine and more adventures!