What better way to enjoy Chardonnay than in a sparkling wine? La Crema's 2015 Blanc de Blanc is made with 100% Chardonnay grapes grown in Oregon's Willamette Valley.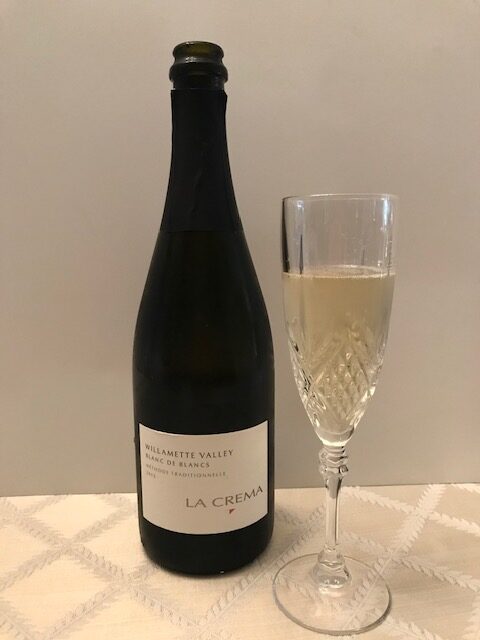 Oregon's most well-known wine region, Willamette provides an ideal climate for sparkling wine. The growing season runs short but its days are long. Although Willamette is long famous for producing Pinot Noirs in this cool climate, many of its winemakers are now experimenting with sparkling wines.
The grapes hail from Gran Moraine Vineyards, one of La Crema's sister wineries in Oregon. Gently bottled in 2016 and aged four years, the wine was produced by Méthode Traditionnelle. Our host describes it as "a borderline Brut" and I have to agree!
Crisp and vibrant, the nose exudes aromas of Tahitian lime, green pear, and vanilla ice cream. Its layers of granny smith apple, Meyer lemon and toasted gingerbread create a fresh combination of flavors. On the palate, the wine offers fine bubbles, bright acidity and a lingering finish.
If you can lay this Blanc de Blanc down that long, it will age for another 10 years, a mark of a very well structured-wine. Made available to wine club members early for a virtual wine tasting in September, the Blanc de Blanc will be released to the general public in early October.
Priced at $65.00 or $52.00 for wine club members. To purchase your own, visit the La Crema Wine Shop. And enjoy!