Welcome back to the final blog in a series on small town Sonoma wine tasting. If you missed the prior articles, you can catch up here.
With 25 tasting rooms right in town, it was hard to choose and certainly not enough time to cover them all! But I have one more to share with you, located in the Ledson Hotel, on 1st Street East. The lobby of this historic hotel transforms into a comfortable lounge around a glowing fire (most welcome on the cold day we were there) and a long bar with chairs along the side wall. The tasting room offers samples of wines from Ledson Winery and Zina Hyde, with plenty of chardonnay options.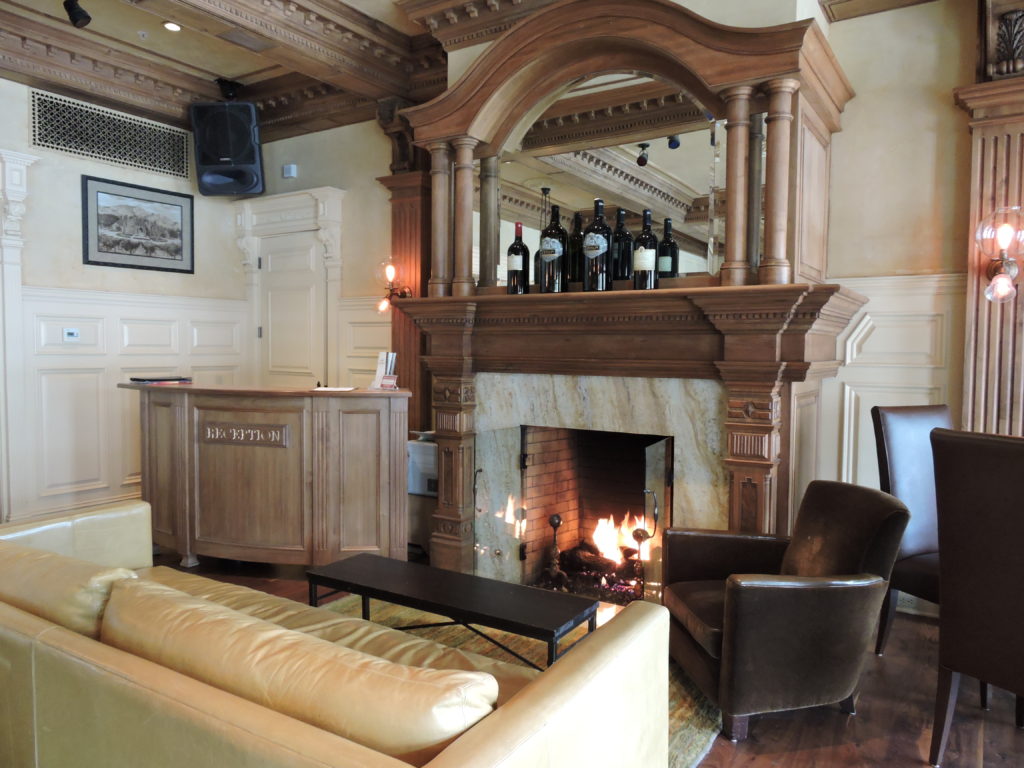 My favorite was the Ledson 2015 Russian River Chardonnay Reserve. A little pricey at $52.00, but this full bodied, creamy wine was delicious with subtle notes of toasted oak in the nose. The palate was layered with hints of crème brulee and butterscotch, typical characteristics of a Russian River chardonnay.
Two More Restaurants Worth Trying
In the first three blogs, I covered some excellent restaurants, especially La Salette and the famous Girl and The Fig. To add to the list, here are two more I would recommend:
Mary's Pizza Shack at 8 West Spain street, a chain restaurant in Northern California, might not be your top choice in this town full of gourmet restaurants. But the fire on the patio drew us in on a cold, rainy day and we're glad we stopped by. The menu is full of Italian and comfort food options, but the wedge salad was one of the best we've ever eaten. Drizzled with Italian and chunky blue cheese dressing, topped with tomatoes and bacon, focaccia bread on the side, this was the perfect size lunch. Gary ordered a bowl of their homemade minestrone soup with ham. Also, delicious!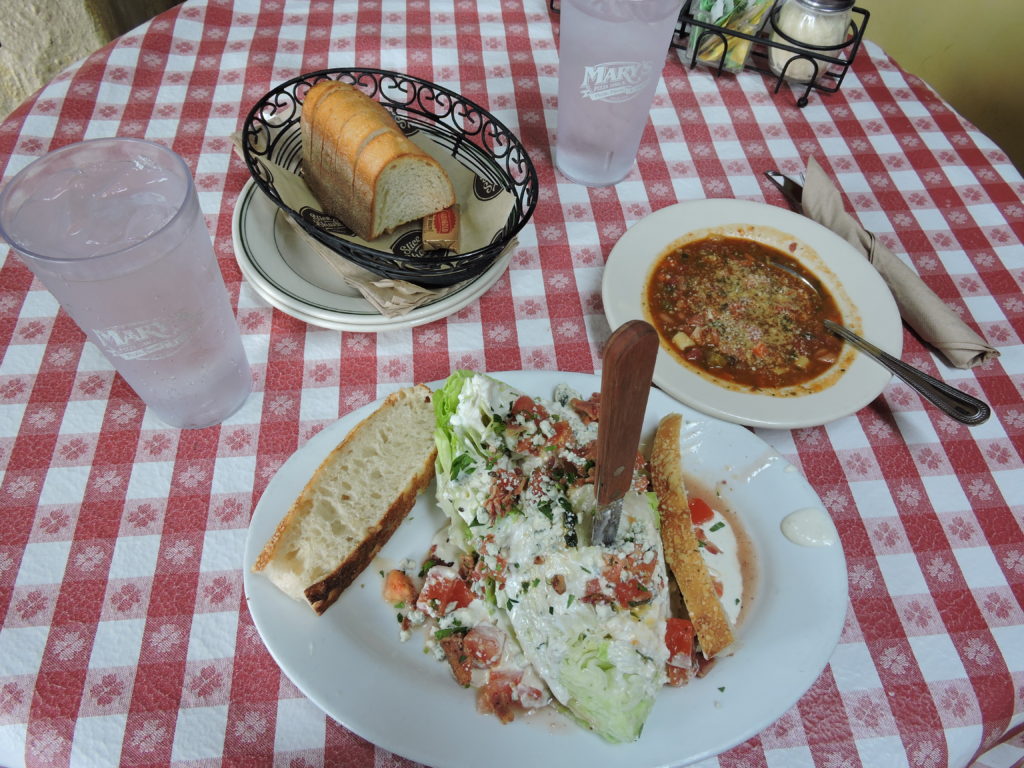 Sonoma Grille and Bar, at 165 W. Napa Street, frequented by locals and tourists alike, was packed on this cold, rainy night in the middle of the week. Thinking that was a good sign, we stopped in there for dinner on our second night. Seafood and steak are both great options at this place. The fact that our server from the Lake Sonoma wine tasting room earlier that day was dining there that evening just confirmed our guess about the quality of the restaurant.
The vibe here is comfortable and wait staff super friendly. A handful of window seats make this place a little more fun – people watching while eating and dining. The restaurant includes a bar with ten seats that were fully occupied with locals enjoying a conversation, hand crafted cocktails, and appetizer plates of crispy calamari, cheeses and artichoke topped flatbread.
Places to Stay
For overnight stays, there are plenty of hotels on the Plaza or within nearby walking distance including MacArthur Place, a 64-room luxury hotel and spa just four blocks from the Plaza; the Best Western Sonoma Valley Inn, just one block from the Plaza; Sonoma Hotel, a 16-room historic boutique hotel on Sonoma Plaza; and Ledson Hotel, a luxury hotel with six guestrooms on Sonoma Plaza.
For more information on the town of Sonoma, wine tasting rooms, lodging, and restaurants, visit: SonomaPlaza.com.
Now park your car, wander through the historic trappings of small town Sonoma, and enjoy some of the best wines that Sonoma County has to offer.