Welcome back to my series about small-town Sonoma! Gary, my favorite wine tasting partner, and I spent three days exploring the town's many wine tasting rooms in search of the perfect chardonnay. If you missed Part One or Two, you can get caught up here.
With 25 tasting rooms in easy walking distance of each other, it's easy to be overwhelmed by choices. We visited several, but by far, my favorite was Bennett Valley Cellars. Located at 127 E. Napa Street, this small but comfortable tasting room features bar stools at a long white L-shaped bar, as well as three nearby tables available for seated tastings. We cozied up to the bar and quickly got to know Iliana from Italy, a lively and knowledgeable hospitality hostess.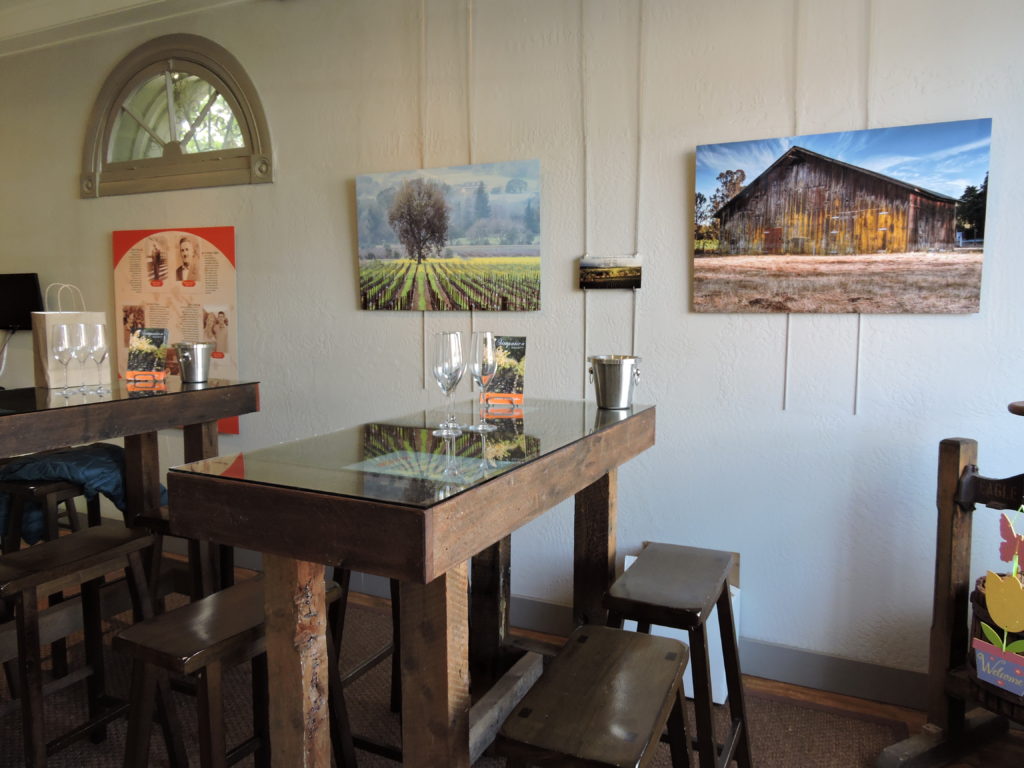 The original founder, Emilio Zanin, also hails from Italy. Pictures on the walls show the 60-year generational history of this family winery established on the 40-acre Simpatico Ranch Vineyard in the Bennett Valley AVA. In Italian, "Simpatico" means "likable" and that is exactly how I found the 2015 Chardonnay, a Reserve Limited Release. As close to "perfect" as a chardonnay could be, it exudes rich, buttery characteristics with complimentary oak nuances and a silky yet crisp finish. Like Iliana says, "You'll dream about it!"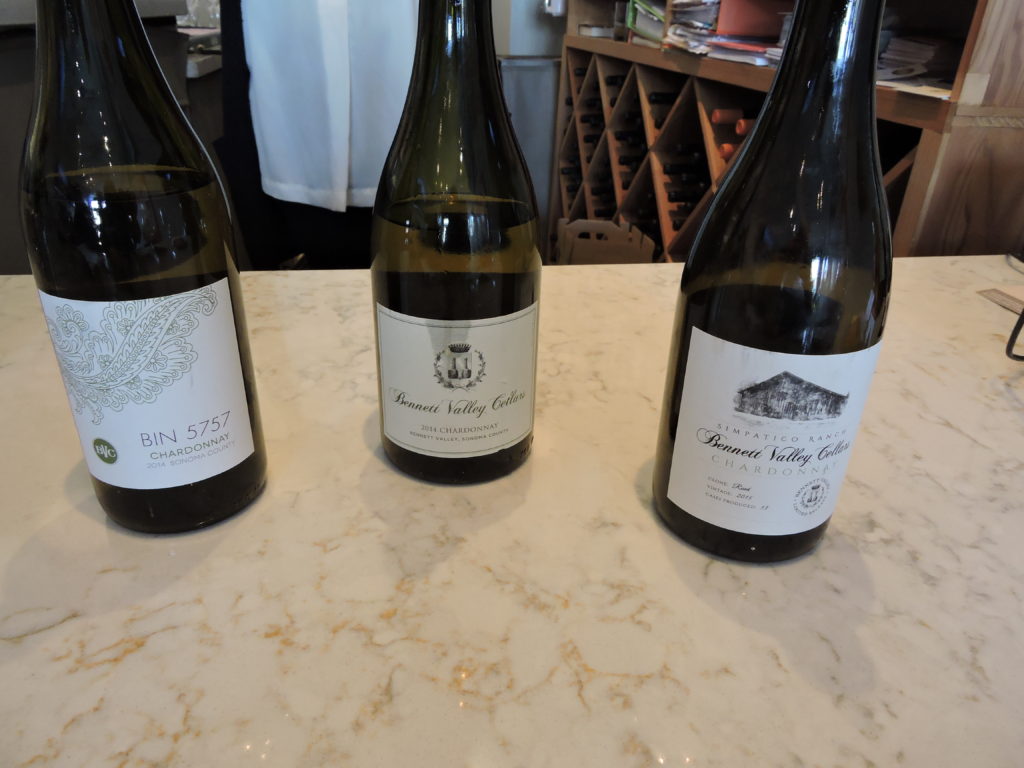 California State Route Highway 12 traverses Northern California's iconic Wine Country and cuts directly through the town of Sonoma, turning westward at the Sonoma Plaza. Naming a winery Highway 12 then strikes me as perfectly appropriate. With a tasting room located just off the southeast corner of the plaza, tucked into a retail store in a glass fronted building, Highway 12 offers a rare opportunity to sample complimentary tastings of premium wines. Reserve wines have a tasting fee, but it's waived if you purchase.
With no chairs for seating, this is old fashioned, "belly up to the bar" wine tasting by the glass. But I found it worth standing around for when I tasted the three chardonnays they produce. I loved the Carneros Highway Chardonnay. At just $19.50 a bottle, this one came home with me!
For dinner we headed to The Girl and the Fig. Popular with locals and tourists, this locally owned restaurant is famous for its Cal-French gourmet food. Just across the street from the northwest corner of Sonoma Plaza, this restaurant has been serving fine, farm-to-table country French entrees for over 20 years. Proprietor, Sondra Bernstein, specializes in pairing "Rhone-alone" wines with her Sonoma-French cuisine. Wine flights are served in a quirky assortment of water, wine and compote glasses, and provide an opportunity to sample more wines from Sonoma County.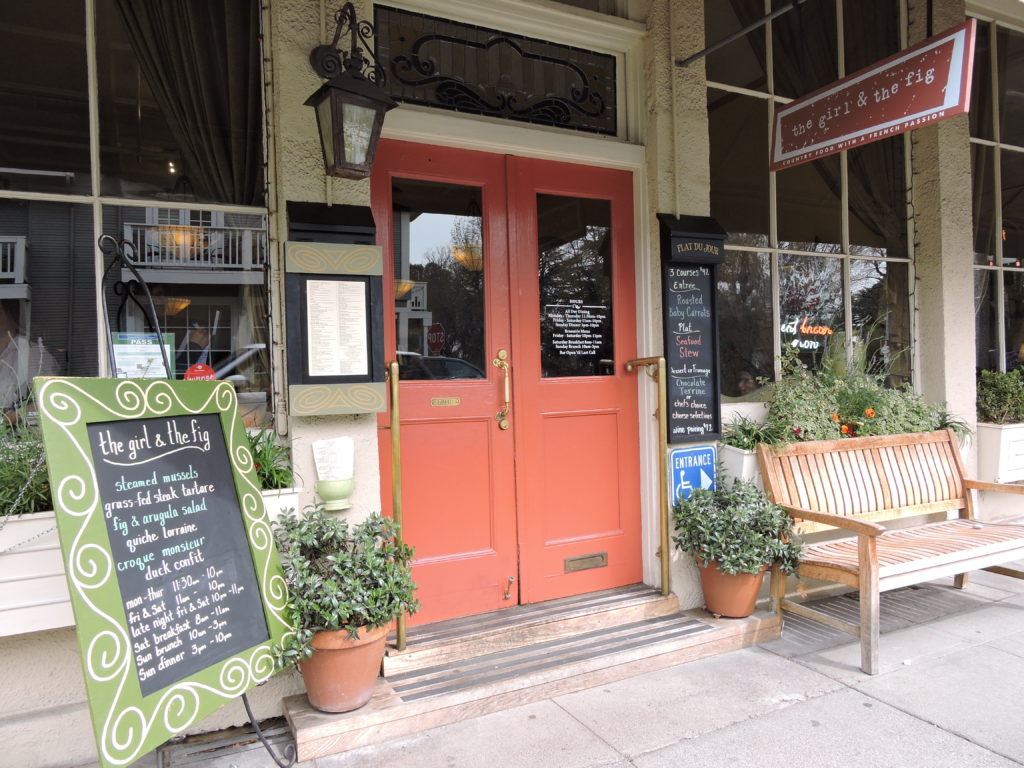 Gary said the pastis-scented mussels with garlic, leeks and herbs were best he's ever tasted. This casual bistro comes equipped with a full cocktail bar, great dessert offerings and its very own newspaper, the "Fig Chronicles."
In Part 4, and the last of this series, I'll share one more wine tasting room to visit, and places to stay.
Be sure to sign up for my distribution list or follow me on Twitter (@chardygirl) and I'll let you know when the next in the series is out! Until then, I'll keep on the hunt for the "perfect" chardonnay.