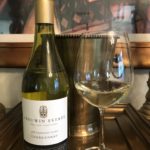 From the Margaret River, Western Australia, the Leeuwin Estate Prelude Vineyards, delivers another delicious chardonnay. With its cool climate, this is a region that produces the style of chardonnay I prefer.
The color of the wine, Leeuwin Estate Prelude Vineyards 2015, is bright, clear and light yellow in color. The nose displays aromas of ripe pears, fig, crème brulee, and slight oak. Subtle fruit flavors of peaches and apple, with a hint of biscuit, make this an easy drinking wine. The style is clean and light, almost refreshing in taste, with a medium body. It is 14.0% in alcohol.
One of the many that we purchased on our trip to Australia, I bought this one at Dan Murphy's in Melbourne. For our USA readers, it's available at FineWineHouse.com for $35.98. Or, you can just hop on a plane and head to Australia and taste all these yummy chardonnays I've been writing about these past few months, and see for yourself. It's a long flight, so you'll want to stay awhile. ?